Right about now there are a number of growers faced with replanting decisions in their soybeans. It's a decision that needs to be made fairly quickly and depends on a number of factors. My advice would be for growers to make accurate stand counts and potential yield loss estimates to determine their most profitable course of action.
The first step all growers should take before making any replant decision is to identify what caused the poor stand. Did the seed fail to germinate or did it germinate, then die? What caused poor emergence? Possibilities include cool, wet soil; inaccurate planter calibration; seeding too deep/too shallow; soil crusting; herbicide injury; insect feeding; disease; or seed quality. Identifying the cause is important because if conditions have not changed, then replanting will simply repeat the problem.
You will want to scout the field carefully to determine the issues at play. Look for swollen seeds, plus radicle and hypocotyl growth that would indicate whether a seed is beginning to germinate or is close to emergence. Remember: depending on growing conditions, it can take six to 36 days for soybean seeds to reach the VE growth stage. After plants emerge, weather, animals, insects, or diseases can cause poor stands. Again, the important thing is to scout each field to determine what caused the thin stand. One key factor: When scouting your fields for replanting decisions you are looking for a uniformly thin stand across the field in its entirety. Only then will you know whether replanting or other actions are required for successful stand establishment.
Growers need a good estimate of the stand before deciding to replant. There are two common methods for estimating plant populations: counting plants in a row and using the hula hoop method. No matter which method you use, be sure to count only live plants. Once the plant population is known, you will want to estimate the expected yield percentage because the decision whether to replant should be based on expected returns. The table below shows yield as a percent of normal. When the expenses of a replant are taken into consideration, as well as the diminished yield expected simply due to replanting the field, you can see that the stand would need to be significantly compromised to justify the economic impact of replanting.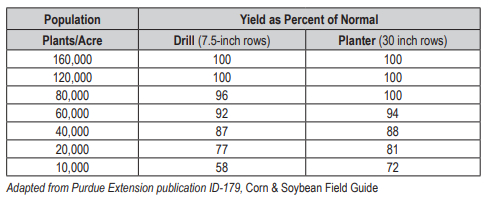 To estimate the cost of replanting your beans, visit the 'Tools' section of the Armor Seed website and click on Ag Calculators, Soybean – Replant. You can also input your zip code to find contact information for your local Armor Seed Sales Agronomist or Sales Representative.
Jay Middleton // This email address is being protected from spambots. You need JavaScript enabled to view it.