Premium Armor® Sportsman
Sunflower Plot Seed
Backed by more than 20 years of industry experience, Armor® Seed has teamed up with partnering brand CROPLAN® Seed to bring you Armor Sportsman sunflower plot seed. We're proud to offer two premium quality seed products positioned for planting food plots for doves. Both of these elite sunflower hybrids possess strong yield potential, high oil content and good drought tolerance.

Armor Dove Pro SS 99
Extremely Early Maturity, Super Short Height Sunflower Hybrid
Download Tech Sheet

Food Plot Establishment
Choosing the right location and planting the right size is key to creating a successful food plot. You might be able to attract doves with a small sunflower plot, but you'll get them to stay by establishing a larger, well-managed plot with the right surroundings.
Location Selection
When choosing an area for your food plot, make sure there are good nesting and roosting areas nearby. From an agronomic perspective, you also should seek out a well-drained, fertile site that can be easily accessed by planting and maintenance equipment.
Important dove habitat considerations include:
Nesting cover, like trees and shrubs.
Roosting cover and perching sites, like power lines, tree groves or fence line shrubs.
Dependable sources for grit and fresh water within a mile.
Plot Size
The most common food plot sizes are 5-20 acres. You'll still attract doves if you plant smaller fields, but they won't hold a good quantity of birds in the long term. Smaller fields will also require you to more closely manage the number of birds harvested and frequency at which they're hunted. If you're looking to attract a larger number of birds, larger food plots are better.
If space and budget permits, you might want to consider planting two separate sunflower food plots within the same vicinity so you can hunt them on an even/odd day schedule. This practice can help doves feel more comfortable, which can help you retain more birds.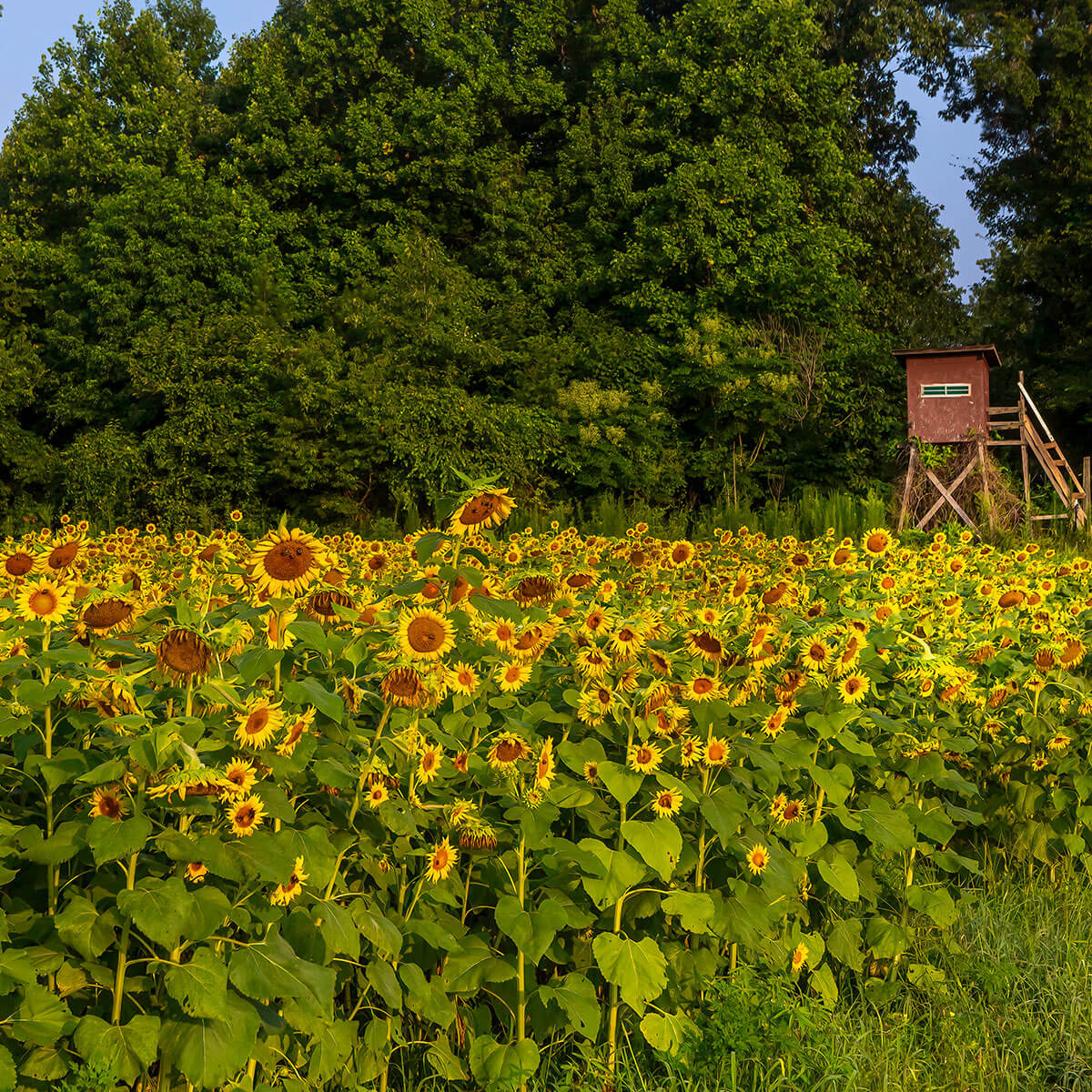 Federal & State Baiting Laws and Regulations
Since mourning doves are federally regulated migratory birds, it's essential to observe and adhere to all federal and state laws and regulations when creating food plots.
When in doubt, be sure to consult local, state, and DNR game and wildlife official guidelines to ensure compliance.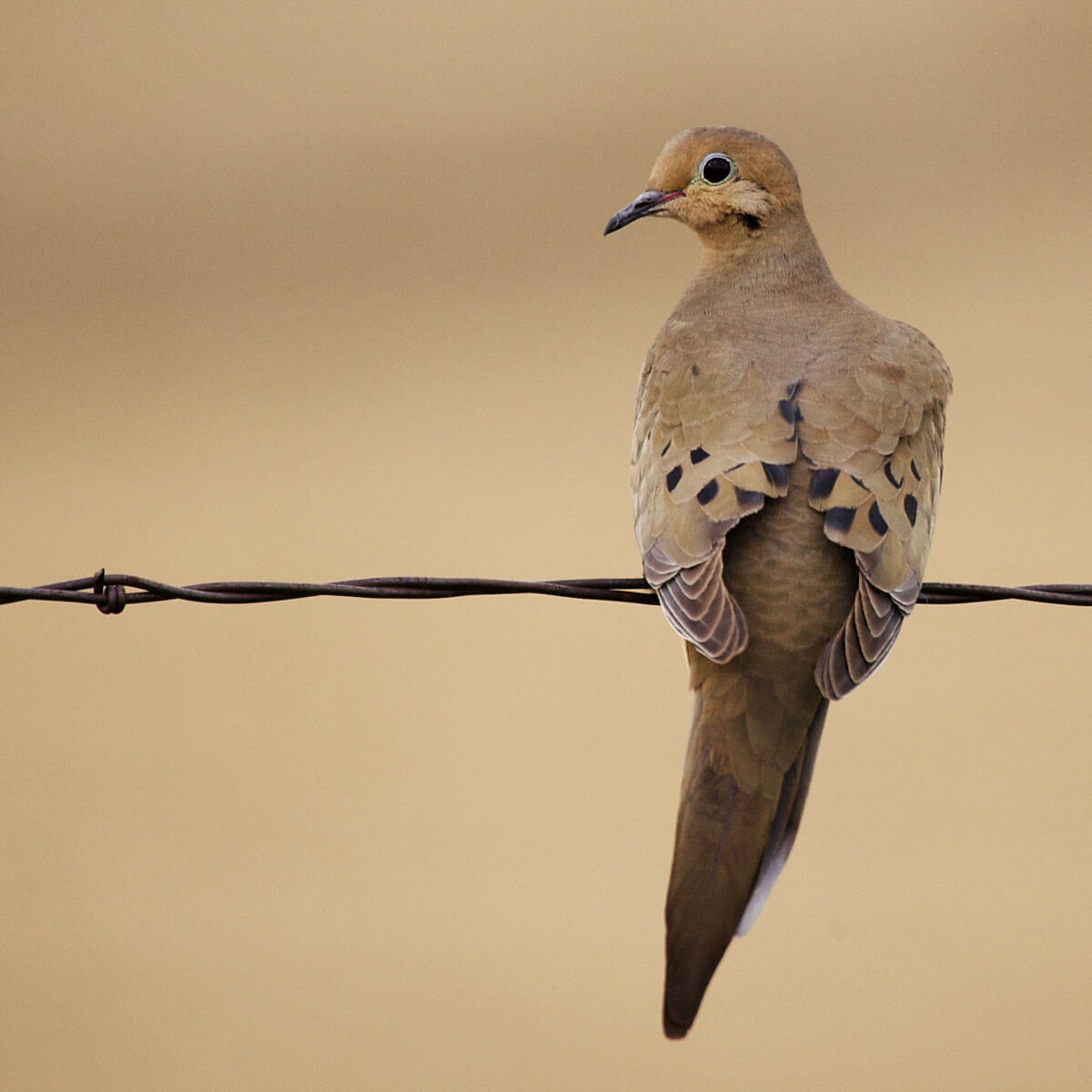 About Mourning Doves
Feed, Migration & Roosting
The most common of the North American dove species, mourning doves have a slim body and long, tapered tail. The bird's quick flight, erratic movements and edible meat make them a popular species among hunters and wildlife enthusiasts. Being lean, dark and tender, many food connoisseurs consider dove meat to be a delicacy.
Feeding Behavior
Mourning doves typically forage on the ground, but occasionally perch on plants to take seeds, as well. The birds eat quickly to fill their crop with seeds, and then return to its nest to digest while resting. Since their diet is so focused on seeds, they regularly swallow gritty materials like sand and small gravel to aid in digestion.
Diet
A dove's diet consists primarily of seeds. While they prefer seeds of cultivated grains, grasses and ragweed, they're opportunistic feeders and will eat seeds from many other plants. They occasionally eat snails, but very rarely feast on insects.
Migration
The breeding range of doves runs from Mexico up to southern Canada. They can't tolerate cold weather, so fall migration in the northern portion of the range can begin in late August. Most of those birds arrive at their southern wintering grounds by October and November. Southern birds, however, typically don't migrate.
Armor® Seed, Cornerstone®, CROPLAN®, Section® and WinField® are registered trademarks of WinField United. Clearfield® and Beyond® are trademarks of BASF. CruiserMaxx® and Dynasty® are trademarks of Syngenta. Roundup PowerMAX® is a registered trademark of Monsanto Technology LLC. Lumisena™ is a trademark of Corteva Agriscience and its affiliated companies.