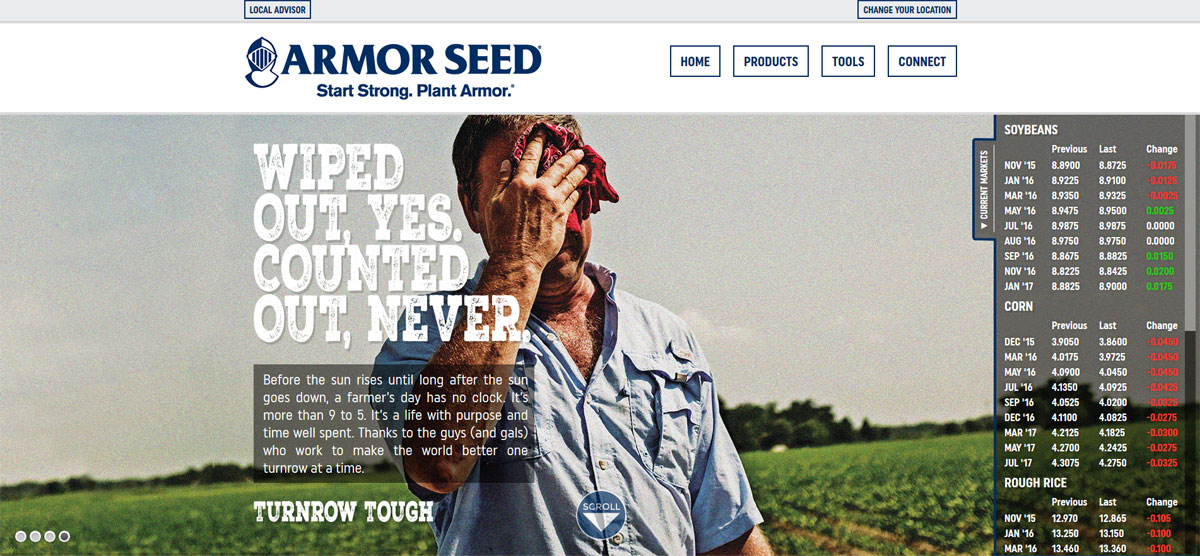 If you haven't visited the Armor Seed website in a while, you don't know what you're missing. Turns out, we've done a little streamlining to make sure you have immediate access to all the information you might need, right when you need it.
First and foremost, we know you don't have a whole lot of time to waste. So now when you visit www.armorseed.com you'll have instant access right from the home page to real-time market data. Enter your zip code at the top of the page, and you'll know instantly who the Armor Sales Agronomist is for your area and how to get in touch with him. Even better, you can click on those products specifically designed to perform in your area. And all of the details you need to know about each product are also a click away. We are able to instantly update our site with new products or important updates, so you can be sure you are viewing the most current information.
Need help making important crop decisions throughout the growing season? Take advantage of one of our handy ag tools or calculators. Are you a dealer? Download the forms and applications you need with a click on the Dealer Tools button. Want to know what's going on in the field? Check out the Armor blog and hear what our agronomists have to say.
And if you have even more time to spend, we invite you to hang out and view our photo and video galleries for a glimpse at the extraordinary lives of farmers throughout the region. You might even recognize a face or two! Then head over and get social—click and connect with us on Facebook, Twitter and Instagram.
Visit today and familiarize yourself with the all-new Armor Seed site. We'd love to hear your feedback!
Have You Downloaded the New Armor Seed App?

If not, what are you waiting for? The streamlined app contains many of the features of our site, so you'll want to make sure you have mobile access 24/7 wherever you are. It's working smarter and faster than ever before and features market info, agronomist contact, product information, ag tools and more. So, download today for both iPhone and Android so can be sure you are up to date on all things Armor.