It's about that time of year when we need to be really vigilant about scouting our fields and managing any insects we might find there. Remember, correct insect identification is critical to ensure the appropriate use of a labeled and effective insecticide so if you are unsure, consult with someone who can help with accurate identification. Always read the label of any pesticide before use. Insecticides are an important component of any soybean IPM program. The careful and judicious use of the proper insecticide in accordance with instructions on the pesticide label is crucial for maintaining an effective insect management program.
That being said, as has been the case over the last couple of weeks, the Armor Seed team is warning about the levels of corn earworm (podworm) they are seeing this year. While for some it is too late to do anything in their corn fields, it is a good idea to consider treating your beans If it looks like you will be significantly affected.
The most serious yield losses occur when large corn earworm larvae coincide with soybean seed that have achieved almost full size. This is when caterpillars feed exclusively on seeds and have a large appetite. Feeding by small caterpillars on terminals, flowers, and small pods does not reduce yield. However, occasionally large caterpillars will cause severe defoliation that will reduce yield.
After several years of work and collaboration between five states in the Mid-South, a threshold for corn earworm in soybeans has been developed. It takes into account not only the number of worms found, but also includes the cost of control as well as the value of the crop in making a determination on when to spray an insecticide for control in soybeans.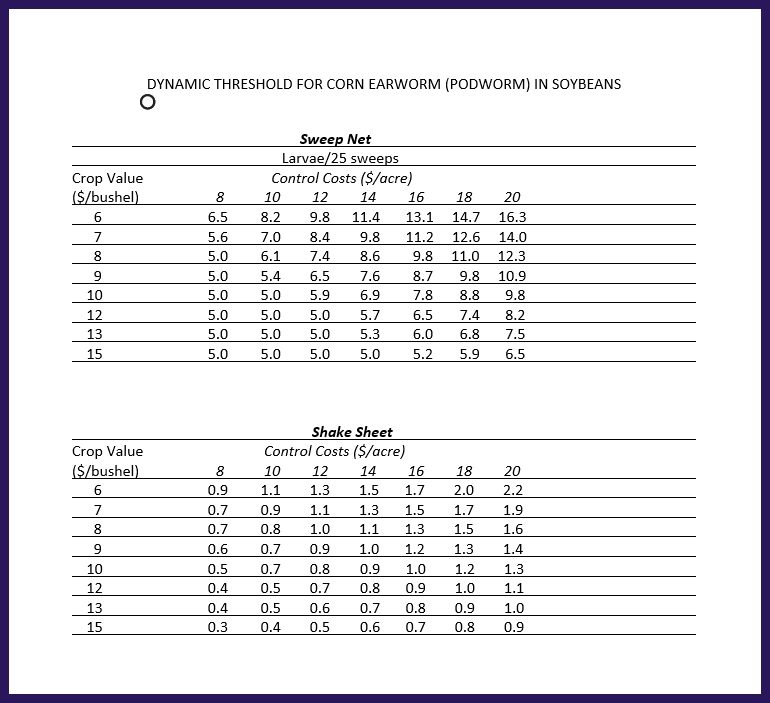 Something to keep in mind: Surfactants are not needed with every pesticide but they do help keep insecticides on the plant if rainfall occurs soon after treatments. Therefore, it is typically a good idea to include a surfactant with insecticide applications.
For those local to me--Armor Seed's Cade Baughman--in North Carolina, I am recommending 8 oz. of Besiege for control. If you have questions, please don't hesitate to contact me or your local Armor Sales Agronomist or Sales Rep.
Cade Baughman // This email address is being protected from spambots. You need JavaScript enabled to view it.