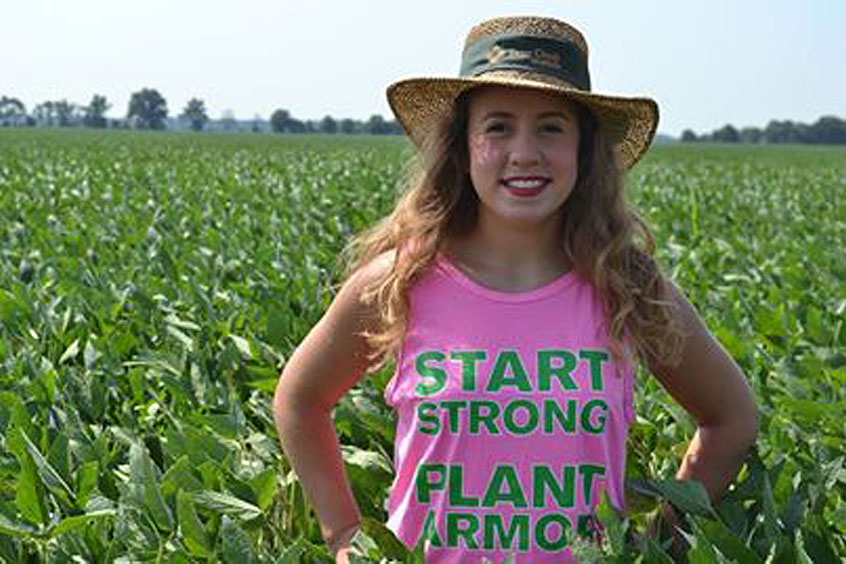 Just wanting to give you all an update on my Armor soybean verification field. For the past month, I have been able to scout my soybean field with our county extension agent who teaches me about the insects and diseases we may encounter in the field. He also shows me how to look for insects, what the "bad guys" and "good guys" look like, and what they are doing out in the field.
My dad and I laid polypipe out in the field in mid-July and started watering the thirsty beans. Since we have a small ditch in the middle of the field, the other half of the beans were irrigated with levees instead of polypipe. It will be really neat to compare the side watered with polypipe to the one watered with levees. It seems like every week since the beans have been watered they have been taking off and so have the pigweeds. There weren't very many of those nasty things out in the field, but I took care of the ones that were out there. After we started watering, I noticed the pigweeds popping their heads up over the top of the beans. It took me about three weeks to finally get the last of them.
As I was out sweeping the field with my net, some of the things I found were loopers and green clover worms (which are really similar.) They are both foliage feeders and they can really eat the leaves off your beans. If left unwatched, they can cause some pretty bad damage. Depending on the numbers next week we will decide if we need to spray. There are more of these worms in the Armor field with levees compared to the field with poly pipe, so we will have to keep an eye on them over the next few weeks. Another insect with which many are familiar are the stink bugs. During about the middle of the growing season is when stink bugs do the most damage considering that they pierce the developing bean pod and feed on the fluid inside the bean. I have only caught a few of these pests in my net when sweeping, so it doesn't seem like we will be having a problem. Let's hope not! As for armyworms, I have only found two throughout the whole month and those were both in the levee-pulled field.
A few weeks ago, my county extension noticed something really odd on a few of the bean stalks in the furrow-irrigated field. He told me that it was either Sudden Death Syndrome (SDS) or Stem Canker which both look a lot alike. He sent it to the lab in Fayetteville where the result came back as SDS. Sudden Death is a fungal disease that is pretty much an infection in the soil that later harms the plant and, as it states in the name, can cause sudden death with no way of treatment. The disease is actually given a boost in high moisture/wet weather which we experienced earlier this summer. It also turns the leaves a yellow and white spotted color which is the most notable way to recognize the disease. Thankfully, the whole field is not affected by the disease, only small random spots.
Last week when I was pulling the last of the pigweed out of the furrow-irrigated field, I ran into an area infested with blister beetles that were eating up the bean leaves. Even though we did not feel that there was enough to treat with chemicals, I did go ahead and spray some Malathion in that particular area, at least hoping to make them nauseated.
This week, our county extension agent and I did our weekly sweep in the field and I thought the beans were going to consume me! They are chest high (on me) and in some places even taller. I will admit that while I was sweeping, the beans got me and took me down. Hopefully nobody saw me fall. I was pretty excited when I found a four-bean pod! That's definitely something everyone wants to see in their field!
We are in the hot days of August so even when I get to the field around 8 a.m., the humidity is so high I start sweating before I even start working. Between the dew and the heat, when I come out of the bean field I am drenched. That is just one reason why the farmers should be given a big "thank you" for working in high temps throughout the summer and pulling 14-hour (or more) days.
Since this was my first year to have my own soybean verification field. I was still in training and didn't do it all by myself. Thanks to my dad for helping me out tremendously, guiding me throughout the way as well as our county extension agent for playing a big part in this learning process. I sure couldn't do it without them! Can't wait to see what harvest brings!
Thanks also to Armor Seed for allowing me this opportunity! I am just now getting my feet wet with the expenses of farming, but I know how expensive it is to buy seed. I really thank Armor for providing enough seed for my verification field. I started strong with Armor and am looking forward to finishing strong with them.