Much like they have been over the last several years, mid-south growers are frustrated by cool temperatures and rainfall hindering early spring corn planting. Under ideal conditions, especially southward, we would like to have a significant amount of corn planted at this point. And for some, panic has set in because they have booked corn that must get into the ground—yesterday. But how much impact does late planting really have on final yield numbers?
It's true. Planting date is a critical component in maximizing corn yield and profitability. For example, Armor's early growers in Louisiana start to get concerned about losing yield potential if corn is not planted by April 10 in the southern half of the state and by April 20 in the northern half of the state. However, corn productivity or yield does not abruptly fall off a cliff when we reach or go past those two dates.
Fortunately, this claim can be backed up by data compiled over a period of several years by Mississippi State University and the University of Arkansas. The primary objective of this research was to evaluate the yield response to well-later-than-normal planting dates for modern corn hybrids, possessing Bt technology for corn borer protection. We can utilize this information to make better cropping decisions, particularly when rainfall delays planting or we are faced with replanting decisions.
Irrigated corn planting date field studies were conducted at the MSU Delta Research and Extension Center at Stoneville and the RR Foil Research Center at Mississippi State University using the furrow irrigation method. Corn produced optimal grain yields until about May 1, when productivity began to gradually decline. Yields were reduced only about 0.8 percent for each day past the optimum planting date and began to decline more rapidly in June.
The results in Mississippi are very similar to studies conducted in the corn belt. Two corn belt studies found that yield losses are about 0.5 percent, 0.7 percent, and 0.9 percent per day of delay for the first, second, and third 10-day periods past the end of the optimum planting window. Therefore, regardless of your location, there is very little justification to abandon corn if planting is slightly delayed past the optimum dates. These findings, coupled with improved genetics that enable today's corn to better tolerate what's thrown at it, are reasons to be optimistic about a late-planted crop.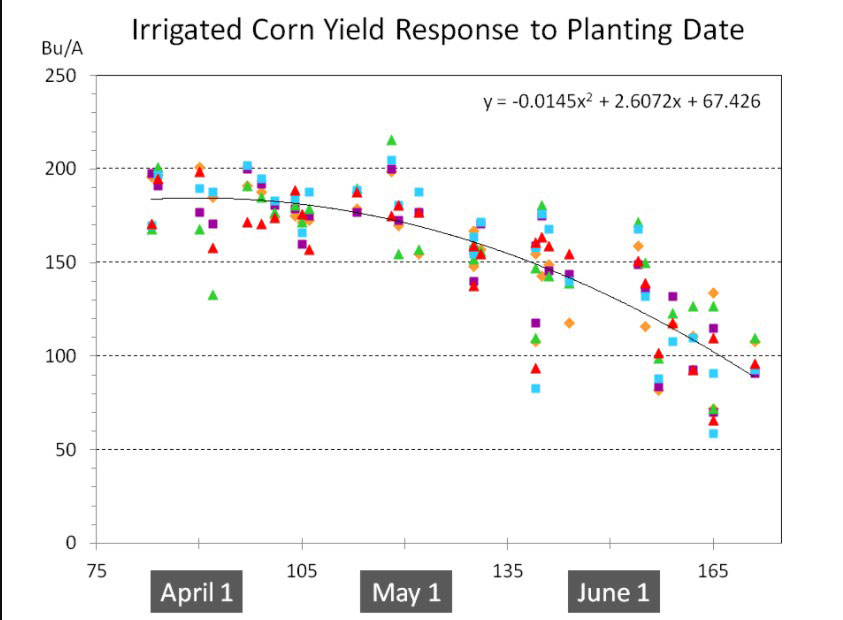 Curtis Fox // This email address is being protected from spambots. You need JavaScript enabled to view it.