The Armor Seed team is committed to bringing you field-tested products that will perform under always changing and challenging conditions. We're especially excited about some of the new varieties and hybrids we've added to our line-up for 2019. First up? Let's talk corn.
We're thrilled about the potential of several new hybrids, as well as a few of our most trusted stand-bys. If you're looking for the right fit, here are some that warrant your consideration: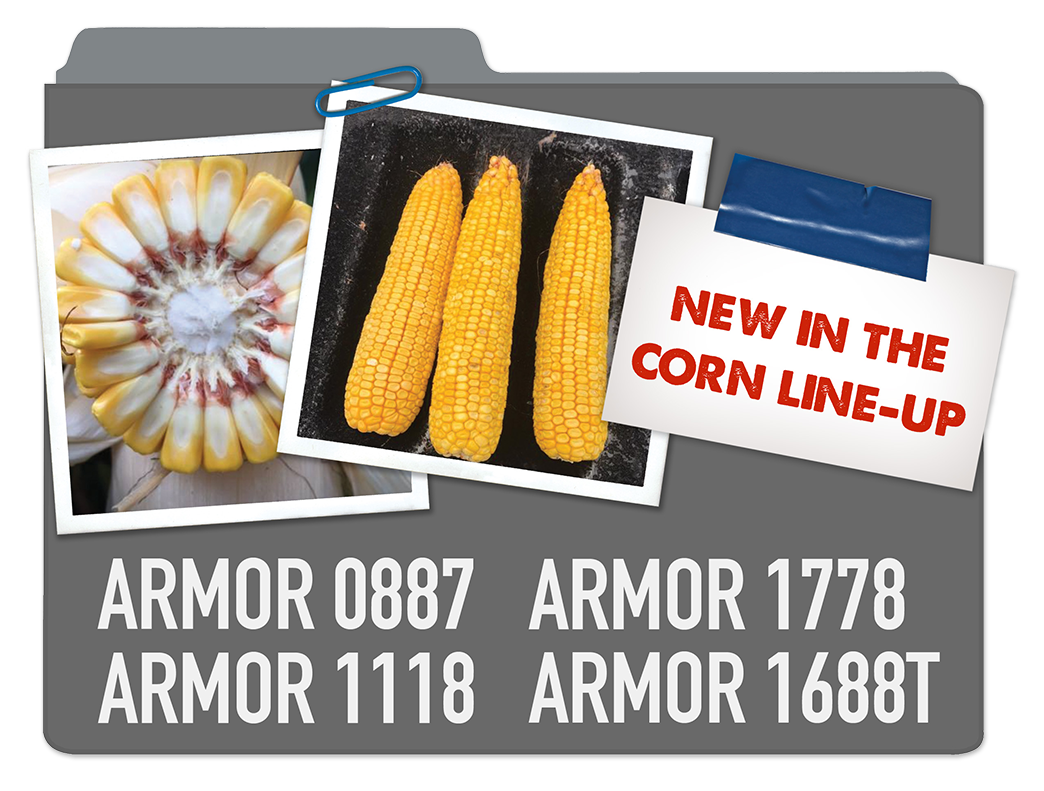 THE NEW ADDITIONS
ARMOR 1118
This 111-day semi-flex hybrid is one the Armor team has been looking for. This hybrid can and will deliver. Armor 1118 is an excellent first-in, first-out that will surprise you on yield. It is a superb early harvest option with a fast drydown.

We like to call Armor 1118 an "under-promise, over-deliver" hybrid. It brings tremendous emergence, early season vigor and comes out of the gate strong. It is a medium plant with medium ear height, plus it has a good disease package. This hybrid has good staygreen and late season intactness. Grain quality and test weight is terrific. The ears on Armor 1118 are slender, but don't let that fool you. The cob is super small and there is a lot of grain on that ear. Fully capable of running with later maturing hybrids, Armor 1118 did very well against the competition in six commercial strip trial locations.
ARMOR 1688T
We think you'll like the potential on this 116-day hybrid with the TRECEPTA trait. Armor 1688T combines VT2P and Viptera for better ear worm control. This is the "best of the best" for above ground insect protection. After good yields in our mini strip trials, we're excited to add this one to our 2019 product line.
ARMOR 1778
We're liking what we see out of Armor 1778. This one could be a contender among the most solid performers of the season, especially in the deeper South. Armor 1778 is a 117-day hybrid that carries with it a good disease package. Armor 1778 is a medium-statured hybrid with a dense canopy to shade quickly on wide rows (38+"). This hybrid seems to be a "heat seeker" and really loves the South Delta.
ARMOR 0887
Armor 0887 is a new hybrid with a true 108-day relative maturity. The yield it brings holds up to some of the competitor's 111-day hybrids with faster drydown. It is always a good idea to spread your risk with different corn maturities. This is an excellent first-in-the-field to plant and first-in-the-field to harvest product. Just think, if you can start even two days earlier that may be the difference in staying ahead and falling behind from the start. Plus you may save some dryer cost on the front end. We consider this product a bit of a racehorse. Armor 0887 will really shine on better ground or under irrigation.
THE TRIED-AND-TRUES
ARMOR 1717
Yield! Yield! Yield! This 117-day hybrid has dominated the yield category with authority for the past three years. Armor 1717 is a medium-tall type, semi-flex hybrid that produces a medium-high ear placement. With good stalk strength and very good root strength, this hybrid also has good seedling vigor and early growth and is a standout due to its fantastic ability to canopy.

Among Armor 1717's best qualities are drydown and test weights, while late season intactness and grain quality are solid—making it a contender for the primary hybrid of your corn operation. Armor 1717 is The Delta Dominator!
ARMOR 1447
This 114-day semi-flex hybrid has a medium plant and ear height. Armor 1447 has very good stalk and root strength combined with a good disease package. It has top notch seedling vigor and excellent early growth.

Armor 1447 was the yield leader for early to mid-hybrids with an average yield of 235.3 bushels per acre (203.2 bushels per acre in mid-full hybrids). If you're looking for outstanding drydown with good late season intactness, good grain quality, and excellent test weights, Armor 1447 is the hybrid you may want to add this season.
Pairing the right seed to the ground it will be planted on is so important. Please contact your local Armor Seed Sales Representative to discuss the right seed for your farm. Need contact info? Head to www.ArmorSeed.com or the Armor app and select your area, click on "ARMOR CONTACTS," and you're all set. As always, it's a privilege to work with you. We look forward to a productive 2019 growing season!
To view this year's corn line-up: https://armorseed.com/seeds/corn